Encoding video to play on Games n' Music
Games n' Music includes a handy video converter program that makes converting your videos into a format that you can play back on your DS a cinch!
Converting your source video
Install the MAX DS Video Converter program on your PC. If you don't have the disc, click here to download the program.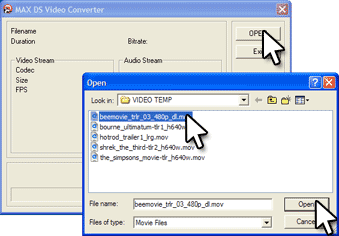 Once installed, run the program and click the 'Open' button. Next browse to the location where your original video clip is stored, highlight the clip and click 'Open'.
Note that MAX DS Video Converter will accept a wide range of file types as source videos including .avi, .mov, mpeg, mp4 and more.
Next, click the 'Encode' button to begin converting the video.
Copy the new clip to your MicroSD card
Next, snap the MicroSD card into your USB card adapater (included) and connect the adapter to your PC. Use 'Windows Explorer' to two 'My Computer' windows to drag the video clip (with the .d2v extension) into the video folder on your MicroSD card (you don't have to use the 'video' folder but it helps to keep things neat!).
Play the video on your DS
Lastly, all you need to do is put the MicroSD card back into your Games n' Music cartridge, snap that cartridge into your DS and switch it on.
Double tap the 'Video' folder to open it and then double tap on the name of the video file you have just added.
Enjoy the film ;-)

If you've written or found a great DS game or application that you run on your Games N' Music cartridge, tell us about it so we can add it to this site and spread the word!.