Design a Game for Datel!
Fifty prizes of Datel DS goodie bundles are up for grabs…
The Nintendo DS has a thriving home brew scene, with skilled programmers creating all sorts of wonderful games and applications. They're easy to use too – just get a home brew solution such as Datel's MAX Media Dock, download the software from sites such as www.maxconsole.net and transfer them to your media dock. You can then launch them through MAX Media's intuitive desktop.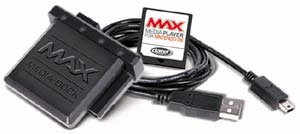 To celebrate the success of MAX Media Dock for the Nintendo DS, Datel is looking for the best home brew games around to offer as downloads or to possibly be bundled with future products. They don't have to be new games – if you've already released a game onto the home brew scene, feel free to submit it for the competition. We're not after exclusive publication rights either. If your game's one of the lucky winners, you can still distribute it on the net and issue updated releases. In fact, if you've already written a game, entering the competition will be no effort at all!
But what's in it for you?
Easy – we're giving away up to 50 bundles of Datel DS goodies, worth £100/$180 each! And if that's not enough, your game will also get a much increased distribution, with Datel's seal of approval bringing it to the attention of professional DS coding teams who might – just might – be looking for new recruits.
To enter, just send a copy of your game with a few simple instructions to homebrewcompetition@datel.co.uk by Tuesday 31st October. If you're one of the winners, we'll get back to you after this date.