IRCDS
Yes, it's true – there really is an IRC client for the Nintendo DS, and it works a treat too! IRCDS is capable of getting you onto any Internet Relay Chat server, and meet up with your buddies to chat away over a WiFi connection.
Getting a list of all the available rooms can be VERY slow on a big server. This isn't the program's fault –the DS's WiFi 'B' speed just wasn't designed with this purpose in mind. But remember, if you know the name of the room you want, you don't need to obtain a list from the server – just use the /join command. A handful of IRC commands are available from the pull-downs, but this is kept deliberately small to avoid clutter. The interface is already strong, being very instinctive to use and offering easy access to commonly-used instructions. As time goes on, we bet it will improve still further (a /whois button would be a boon, for example).
If you're new to IRC, this is not the best way to learn. Instead, install mIRC (for the PC) or Ircle (for the Apple Mac) and familiarise yourself with Internet Relay Chat before taking the plunge with IRCDS. However, if you already use a chat client and want to IRC on the move, go for it. If you know what you're doing and where you're going, it's great.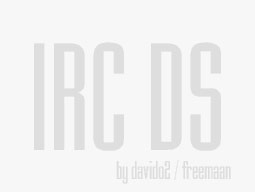 Above: Title title screen.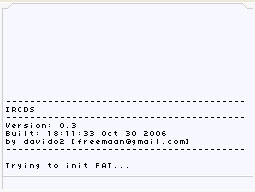 Above: The ICR DS screen.
To Return to the competition home page click here