The Collection
The Collection is a compendium of four games in a single pack. There's a simple sliding squares puzzle, which unfortunately uses numbered pieces instead of a picture. It gets the job done – slide the 15 numbered tiles into the correct order to win – but reassembling a graphic would be so much more satisfying.
Tiles is a simple puzzle affair which calls for a steady hand. You must pick out all the tiles that match the one offered on the top screen. When you get the last one, the grid of tiles on the touchscreen grows, offering more tiles to pick out. It's not very satisfying as the more successful you are, the faster your screen is filled with tiles. It feels like you're trying to stop the tide from coming in rather than making genuine progress.
Invasion is a shoot-'em-up where you aim with the stylus and blast with the shoulder buttons. The action takes place across both screens, which is neat. Finally, Flip is an interesting outing which makes you concentrate on what you're doing. Presented with a pattern made from white and black tiles, you must touch all the black ones without lifting your stylus.
The Collection is a brave piece of work. Respect is due, even if one or two of the games miss the point of what they're trying to do. Top marks for letting the player exit a game and go back to the menu without resetting the DS though!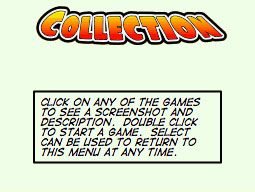 Above: Title screen on the Nintendo DS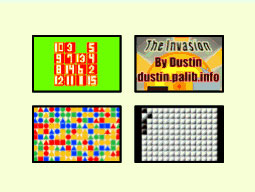 Above: Select your game from this menu.
To Return to the competition home page click here