Warrior Training
Boasting a 'Snakes'-style offering, a Wormsesque stage and a first-person blasting level, Warrior Training is an interesting mix of game styles, but unfortunately none of the individual mini-games come remotely close to being acceptably polished.
As a whole, the game's plot sees you training to be a soldier of the future. First of all, you must polish your reaction speed by eating 20 food units in a game which resembles the mobile phone stalwart Snakes. It's a little crude, but to its credit, it uses both the screens. A little more graphical variety would be welcomed; the snake's body segments use the same sprite as the food. Worse still, food items can appear underneath the snake's body, which is confusing late in the game when your roving reptile has grown.

The Snakes game is followed by a worms-inspired team battle, featuring two weapons (a grenade and a gun) and two soldiers per team. It basically works, but again, it's crudely realised, with basic graphics and an unresponsive touchscreen. Even so, it's a work of art compared to the first-person shooter, where you can walk through walls into open space and both your bullets and the enemy monsters are square blocks built from a wall texture.
With a lot of work, Warrior Training could be fun. All credit to the programmer for including a wifi mode for multiplayer action too. However, as things stand, all three of the minigames are too rough and unfinished to be worth playing.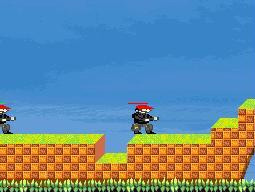 Above: Warrior Training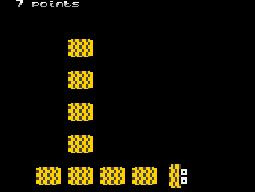 Above: Warrior Training or Snake ?
To Return to the competition home page click here