PaddleBattleDS
Now here's a text-book example of how to make good use of the touchscreen and create a game which could only have appeared on the DS. PaddleBattleDS is a take on that old arcade favourite Air Hockey, where the two players batter a plastic puck with circular Perspex paddles, aiming to score in the goals at either end of the pitch. On the DS interpretation, the action takes place across both screens, with your opponent's goal at the top of the upper screen and your own at the foot of the touchscreen. Control is via the stylus – touch the screen and it appears.
PaddleBattleDS just oozes attention to detail. There's several tables to compete on, three computer opponents (all illustrated with pictures of cats) and even a couple of mini-games. The collision physics aren't perfect (the puck tends to move sideways more often than it really should), but the AI is spot-on, offering a real challenge without being impossible.
This is what DS home brew is all about. Simple, addictive, and fun – everything a good game should be.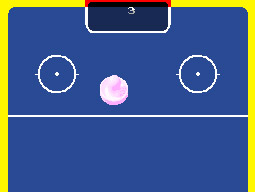 Above: Joggle intro screen on the Nintendo DS
To Return to the competition home page click here