JoggleDS
Another wild and wonderful word game, in JoggleDS you're presented with a grid of letters. Choose your starting square by placing the stylus on it, and then move from letter to letter, horizontally, vertically or diagonally to make words of four letters or more. The longer the word, the better the score. See if you can beat your best before the time limit runs out.
JoggleDS is more absorbing than you think. It's daunting at first, but as you sit and think, all sorts of words present themselves. The letter grid remains constant throughout, though, which is a pity. A poor grid can really hamper your game, and an easy one could gift you an impossible-to-better personal best. Maybe a future version could replace used squares, or better still, make them disappear and have those above fall down a step. Just a thought…

Above: Joggle intro screen on the Nintendo DS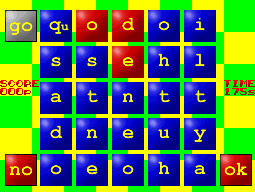 Above: Its like a word puzzle, but harder, much harder!
To Return to the competition home page click here