No Place to Hide
Now here's a killer! No Place to Hide offers ten minigames based on a single theme. In each game you must avoid letting your player get touched by any of the baddies. And they increase in both speed and numbers as the game goes on, so stay on your toes! The graphics are great, and look out for the tribute to the old arcade classics and home computer raves!
The games take on an interesting mix of graphical styles. Opening with a winter theme, where you must guide a cartoon skater around an ice rink without hitting the snowmen or frozen penguins, you move on to a shoot-'em-up where you drag your craft around enemy fire. A Zelda tribute sees you dodging blobs in a dungeon, and the hand-drawn Pac-Man theme is arguably the most interesting of all. Watch out too for Asteroids, benami and Micro Machines-themed offerings. You can even register your high scores with WiFi too!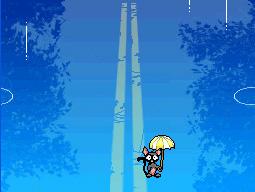 Above: Register your high scores with WiFi.
To Return to the competition home page click here