DoubleSkill
What a nightmare! On the lower screen, you have a seesaw with a large sphere on it. On the upper screen, you have a Breakout-style paddle and a bouncing ball. Dragging the stylus across the screen moves both the paddle and the seesaw. Can you keep the big round sphere from falling off the end and also send the bouncing ball skywards with the paddle? It ain't easy…
Satisfying the two sometimes-contradictory demands of DoubleSkill is a real test. Go for the bouncing ball and you might lose the ball on the seesaw. Balance the seesaw and you might miss the bouncy ball. To retain both, you must plan ahead. Your score is measured in seconds – can you beat your best?
DoubleSkill is simple, but addictive. It's very short, so there's always time to squeeze in a few games as you attempt to beat your best in a spare couple of minutes. You'll be coming back to it for ages too – just one more go, you know you can improve on your last score!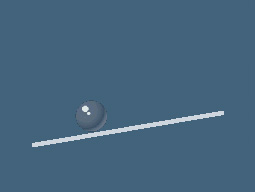 Above: Just one more go.....please!
To Return to the competition home page click here