Fushido
Another delightful puzzler! Fushido sees you placing coloured pieces on an eight-by-nine grid. Each piece has a colour and a picture. You can only place pieces next to others which match the current piece's colour or image. For example, a purple unit with a flag can be positioned next to a piece of any colour with a flag on it, or a purple unit with any image. A square blue piece is universal, and can be placed on the grid next to anything. The aim of the game is to complete vertical or horizontal lines, which are then coloured as 'captured'. Take the whole board and you've beaten the level. There's also a Fu Mode where you have to make a given number of lines under certain constraints, eg. all pieces must match on colour alone.
Fushido is exactly the sort of puzzler the DS home brew scene was made for. It's simple, graphically attractive and presented really well. It's sometimes a little tricky to drag and drop your piece onto the correct square, even on a newly-calibrated screen, and as you don't choose which piece to play next we wonder why you have to drag them at all. Wouldn't tapping the square you wish to fill make more sense? Even with these mild reservations, Fushido is a great game. Just the thing to fill a spare five minutes.

Above: The score screen looks clear, if a little simple.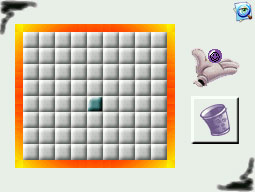 Above: The playing area.
To Return to the competition home page click here