Prohibition
Interesting – an Amstrad CPC game brought to the DS in an unofficial conversion. In a nutshell, it's an Operation Wolf-style lightgun game (with crosshairs or stylus input replacing the lightgun, of course), set in 1920s America. You must scroll through the playing area with your D-pad, taking out the bad guys in Dick Barton-style trench coats. When a baddie appears, you have three seconds to call last orders on his booze racket before he shoots you, costing a life.
To be honest, Prohibition was a bewildering game to convert to the DS. Although the touch screen is the perfect input for handheld 'lightgun' action, the game as a whole really isn't all that good. Three seconds is seldom long enough for you to find your foe, so the only way to make progress is to die (at which point you're shown the guy who shot you), start again and make straight for the place where he appears. Blast him and move on to the next guy you can't hope to find in time. When you're shot, you're shown his location and – you get the idea. It's just a complicated memory test.
We'd love to see more old games given the DS treatment, but we hope programmers will go for the genuine classics in future, not the flawed also-rans.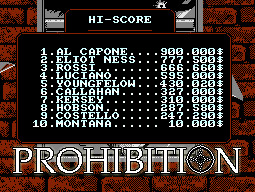 Above: Hi-Score screen on the Nintendo DS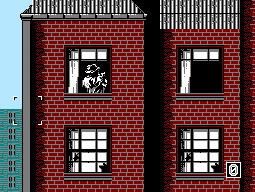 Above: Hit them before they hit you !
To Return to the competition home page click here