Tic Tac Toe
Another game that needs no introduction. This one's Noughts and Crosses on the DS, with you playing a computer opponent at Easy, Medium or Hard difficulty. You take it in turns to play. On Easy level it's a doddle, with the computer not even trying to make a line or block yours. On the other two skill levels, every game ends in a draw unless you're an idiot or half asleep.
The programmer might want to review his spelling of the word 'loser', but apart from that, there are no real flaws in the implementation of the game. It's the endless stalemates imposed by the nature of the game itself which makes this one to play once, then never load again.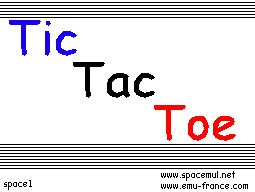 Above: Title screen on the Nintendo DS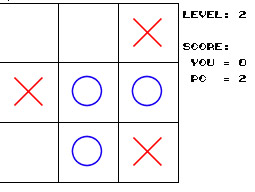 Above: Just about to place the winning circle !
To Return to the competition home page click here