Pop The Balls
Another simple winner, this little puzzler presents the player with a grid of coloured spheres. By double-clicking on groups of two or more, you make them disappear. Spheres then fall down or slide right to fill the gaps. More balls fall during the game when you've no moves left, but they don't last forever.
There are better puzzlers out there than Pop The Balls, but as a freebie download, it does a decent job of passing the time.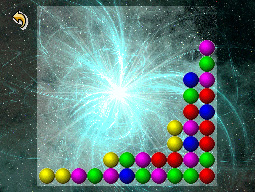 Above: Pop the balls.
To Return to the competition home page click here