Bahlz
A crafty little number, and no mistake. Played entirely on the touchscreen, Bahlz offers you a grid of spheres which you must destroy by touching groups of similarly-coloured units. At least two of the same colour must be touching, vertically or horizontally. Tapping a single sphere won't budge it. Spheres fall to fill the gaps left by destroyed units, and if you clear a vertical line, the remaining spheres are pushed together.
The aim of the game is to clear the screen, and it ain't easy. Removing spheres without leaving a single unit isolated, with no similarly-coloured spheres nearby, requires a lot of forward planning. It will be a while before you manage to complete a screen, but the game has that addictive quality which keeps you coming back for more. However hard it gets, success always seems just one more game away, and that's how it should be.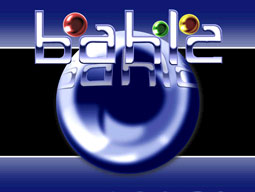 Above: Title title screen.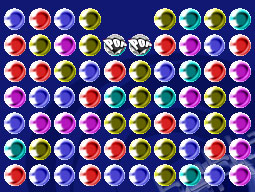 Above: The colourful game interface.
To Return to the competition home page click here