AMAP4DS – London Underground
AMAP4DS is a simple, fast and easy to use map viewer for the Nintendo DS. It boasts four levels of zoom, ranging from 192 x 192 to 1024 x 1024 pixels, and it makes good use of the host machine's two screens.
A map of the London Underground is always a handy thing to have when visiting the capital. That's why there's usually one printed in the back of your diary. This Nintendo DS version is equally handy. On booting, you get a full map on the lower screen. A small area represented by a flashing grey box is blown up on the upper screen for detail. You can move this grey box around the map with the stylus or the D-pad, allowing you to define which area is offered in detail. At higher zoom levels, the entire map is shown across both screens, with the stylus or D-pad allowing you to move it around to view different parts of the map.
AMAP4DS is a great idea, and one that will prove even more useful as various city maps are released. See www.andreani.net/ds for details.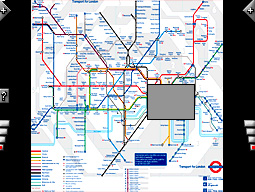 Above: The touch screen london underground map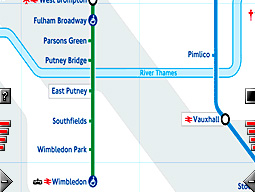 Above: The map viewer at full zoom
To Return to the competition home page click here