Invasion
This is one of those quirky games that could only be home brew, despite its professional-quality presentation and execution. You play the part of a UFO pilot, guiding your craft around the screen with the stylus, and pressing pretty-much any button on the DS to send out a shockwave which blows the heat-seeking missiles targeted at your craft out of the sky. Needless to say, if you fail to blast the missile before it strikes, you lose a life.
Invasion is played out on a black and white playing area, which gives the game a moody, atmospheric feel it would otherwise have lacked. This is the sort of thing only home brew programmers can do – can you imagine a professional software developer taking a risk like that? There's a choice of background images, and you can choose your own choon too!
There's a couple of drawbacks. When controlling your craft with the stylus, your hand gets in the way of the screen. Not that you need to move much anyway – it's usually easier to sit in the middle of the screen with your finger on the shockwave button of choice, and wait for the rockets to come to you. You only have to move when two come together, with the second following too close to allow a second shockwave after taking out the first.
Invasion won't keep you playing all day, but as a quirky break from the norm, it's well worth a blast.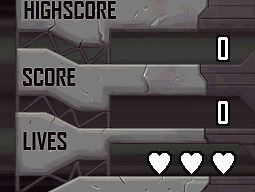 Above: The screens on this game are well presented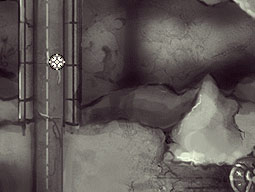 Above: Move your space ship using the touch screen
To Return to the competition home page click here