Super Snake DS
Another old classic which has been given a new lease of life on the DS, Super Snake DS is a variation on the old mobile phone offering Snakes. Guide your roving reptile around the screen, eating the fruit and food scattered around the playing area. Each meal extends your tail, so beware – if your head hits a wall or your own body, it's 'game over'.
Super Snake DS boasts a Classic Mode, which is just like the mobile phone game, and an Adventure Mode which boasts a storyline and mini-games where you earn lives, points and more. To be honest, neither are particularly well executed. The Classic Mode is dire, with two-colour graphics and a snake that's no more than a rectangular block. The Adventure Mode is better, with the game area covering both screens, improved (but by no means wonderful) graphics and a neat little background tune, but execution problems remain. The snake seems to brush past the fruit rather than swallow it, and sometimes between-level messages are left on the screen when the next stage starts.

Imperfect execution lets down what could've been a neat game. Yet with a little more work, it could be a worthy winner.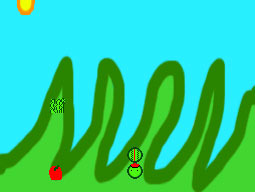 Above: The snake in action!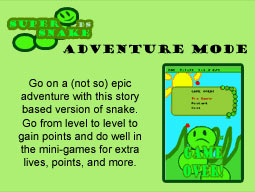 Above: Game selection screen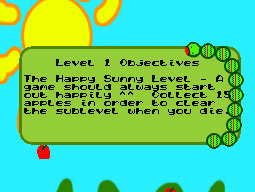 Above: This screen tells us the story of our hero
To Return to the competition home page click here