DSudoku
Now here's a neat one. The pen-and-paper classic comes to the DS, and the developer has put a great deal of effort into turning it into a videogame. There's an Adventure Mode replete with cut scenes, or you can just dive in and play a single puzzle. The graphics are outstanding, with crystal-clear numbers on large-scale touchscreen playing areas.
For those not in the know, Sudoku is played on a grid nine squares tall by nine squares wide. This grid is itself divided into nine smaller squares. The aim of the game is to fill the grid with the numbers one to nine, but there's a catch. You can't have the same number twice on a vertical or horizontal line, and nor can you duplicate numbers in one of the smaller three-by-three grids. Some numbers are already there at the start of the level, so it's up to you to work out how to place the rest.

Not everyone is a fan of Sudoku's trial-and-error style, but the puzzles have a massive fan base. If you're into Sudoku, you'll never find a better electronic version than DSudoku. It's polished, professional and easy to use.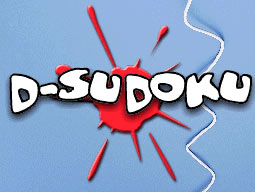 Above: The games main screen logo
To Return to the competition home page click here