DSChess
DSChess is definitely one of the more ambitious home brew games out there. A great chess simulation featuring excellent graphics and a superb interface, it could easily form the basis for a professional chess title.
The game is played on the bottom screen, with stylus controls offering drag-and-drop convenience. A neat touch is the last move your opponent made is displayed by a green line showing where the piece was moved from and moved to, so if you're away from the console while the computer opponent is making its play, you can see at a glance what it did.
There are a couple of flaws. There aren't any skill levels, but the game offers a strong opponent anyway. There's no 3D board or choice of piece designs, but to be honest, we don't miss these pointless fripperies commercial chess sims feel forced to offer. Who doesn't default to the 2D Staunton board after looking at them once anyway? More seriously, there doesn't seem to be any way of castling, which is a serious omission. Even so, if you're into chess you could do a lot worse than download this one. It really is a very competent game.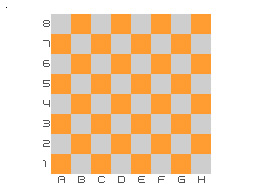 Above: A chess board.
To Return to the competition home page click here