Stringy Things DS
Now here's a gem! Stringy Things DS is a compendium of word games, with a dice offering thrown in for good measure. They're all professionally presented, played to a user-definable time limit and offer one to four players. For once you can come out of a game and try another by pressing the Start button – there's no need to keep resetting your machine.
The first offering is called 'Swaps'. You're given a four-letter word and are invited to swap one of the letters for another, making a new word. If you succeed, you score. If you can't make a legitimate word, just enter anything to move onto the next without scoring. The second game, 'Crosses', is a little like scrabble in that you place letters on a board to make words and score. 'Towers' has you making vertical words by placing letters in tubes.
'Triplets' offers you three letters. You must make a word containing them, in the order offered. 'Strings' is a kind of word search, where you must find words within a grid of letters, and 'Anagrams' does exactly what it says on the tin – it's a bit like the letters section of the popular TV quiz show Countdown. Finally, 'Dice' plays like the traditional dice game Yahtzee.
It would be nice if high scores were saved onto the storage unit instead of being reset every time you restart, but other than that, it's a cracker.
.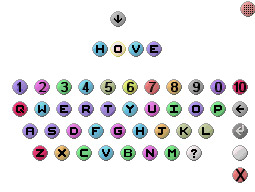 Above: On the Nintendo DS
To Return to the competition home page click here