Breakout
Now here's a game which requires little introduction and absolutely no instructions. Breakout is, well, Breakout, one of the oldest and most revisited experience in the history of videogames.
As always, the aim of the game is to destroy a 'wall' of bricks at the top of the playing area with your bouncing ball. Bat it skywards with your paddle, and don't let it fall off the bottom of the screen. You can play the game's ten Normal Mode levels, build up to ten of your own in Custom Mode and even have the levels built on the fly in Random Mode. Each mode has Hard and Easy skill levels, and the usual power-ups offer effects such as shrinking your paddle or making the ball stick to it. You can control your paddle via the D-pad if you wish, but if you want to keep up with the game's rather snappy pace, it's best to use the touchscreen stylus.

Breakout neither claims nor aims for originality, but that's hardly an indictment. This is Breakout for the purists, and none the worse for it either. A refreshing and exciting trip down memory lane.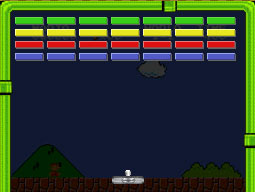 Above: Breakout on the Nintendo DS
To Return to the competition home page click here