AquelaBall
With a little fine-tuning, this one could be a real corker! A variation on the Qix theme, in AquelaBall you must win over 75% of the screen by boxing it off. Played on the touchscreen, you mark your territory by tapping the screen to start an expanding line, either vertical or horizontal. The line expands from the position you touched until it reaches the edge of the playing area, earning you the portion of the newly-divided pitch which doesn't contain the bouncing blue ball. And that ball is your enemy – if it touches the line before it reaches the edges of the screen, you lose a life.
The first stage boasts only one bouncing baddie, but another is added with every new level. This gives the game an excellent difficulty curve, with an easy start giving way to some seriously tricky action when you've four or five balls to watch out for.
AquelaBall's visuals are have been massively revamped since the previous version. It would still be nice to see the part-formed line shatter when it's hit by a ball, but that's a minor moan. With a little polish, this could be one of the most respected home brew efforts on the scene.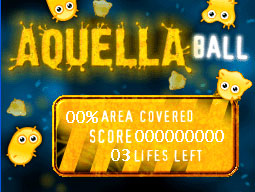 Above: The second level can be a little tricky.
To Return to the competition home page click here