HexaVirus
Another simple yet addictive game, HexaVirus has little replay value when beaten several times, but it's fun while it lasts.
The upper screen offers a grid of coloured hexagons, with one highlighted in the bottom-left of the screen. On the touchscreen, you're offered seven coloured hexagons, representing the colours on the grid. By choosing one of these hexagons, you 'win' all the tiles of that colour which are adjacent to the highlighted piece, which then become highlighted themselves. You then choose another colour, earning all those tiles next to the newly-expanded highlighted area. Can you cover the entire board in less than 35 moves? Clusters of a single colour touching the highlighted area are all coloured in, so look for these opportunities to move a little quicker.
HexaVirus is certainly a thinker, though to be frank, the 35-move first stage is pretty easy. After that, you're asked to do it again with a smaller number of moves. How low can you go? It's fun for half an hour, but has little replay value.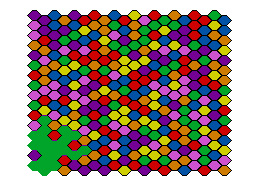 Above: HexaVirus is certainly a thinker.
To Return to the competition home page click here