Battleships
Now here's a game worth playing! Battleships isn't without its flaws, but it's a fair old rendition of the classic pencil-and-paper offering. The gameplay will be familiar to everyone who's played a different version of Battleships, perhaps the MB Games boardgame or the Grid Attack outing included on Nintendo's '42 All-Time Classics' compilation.
First of all, you place your fleet on the playing area, which is divided into squares. You can rotate your ships if you wish. You and your CPU opponent then take it in turns to fire pot-shots at each other, picking out the square on your foe's grid you wish to attack. Your shots whistle through the air before landing with a plop if you miss, or a crashing explosion if you find one of the enemy ships. The first player to sink his opponent's fleet wins.
There are one or two irritating flaws that keep the game from greatness. For some reason, your own fleet is depicted on the bottom screen, even though the touchscreen functionality isn't used after the initial set-up. Why not put the enemy's playing area there, so you could place your shots with the stylus instead of using the D-pad and 'A' button? Also, it would be nice if we had a graphical representation of the opposing fleet's current state, to save having to count our hits. There'd be plenty of room if the valueless alpha-numeric grid references were lost. A bug lets you position your vessels on top of one another too, but it's no real problem – just don't do it.
Battleships is one of the best home brew games on the DS. With a little more polish and a WiFi two-player game, it would be a killer.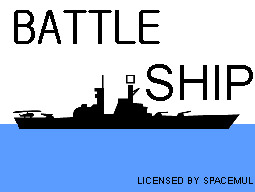 Above: Title screen on the Nintendo DS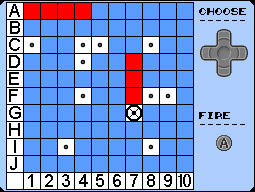 Above: The active touch screen during play
To Return to the competition home page click here